System Stead Flat RF 8,2 MHz
- Number of RF antennas (TX+RX): 3
System Stead Flat RF 8,2 MHz
- Number of RF antennas (TX+RX): 3
---
The most common radio-frequency Czech made anti-shoplifting system. Optional People Counter and Metal / Booster bag detection. More
Product code: CS-3STFLShipping and Payment
The most common radio-frequency Czech made anti-shoplifting system. Optional People Counter and Metal / Booster bag detection. More
Product code: CS-3STFLShipping and Payment
Radio Frequency (RF) 8.2 MHz  Electronic Article Surveillance System

Technology:
Radio Frequency (RF) 8.2 MHz
 
Antenna design:
Elegant aluminium profile with Plexiglas
Can be used as an ad panel - to insert a shop advert
Features:
Perfect detection of all RF 8.2 MHz protecting elements
Suitable for all types of shops
Optional:
- built-in customer counter with Internet browsing in a program in Czech, English and Polish
- built-in detection of metal or aluminium booster bags, discreetly warning shop staff of a pager or stroboscope
- possibility of remote service via Internet
- black paint
 
Antenna dimensions and weight:
Antenna Dimensions: 1 539 x 370 x 50 mm
Base Dimensions:   390 x 68 mm
Inserted ad dimensions: 1523 x 338 x 2 mm
Antenna weight: 3,7 kg (TX 3,65 kg, RX 3,74 kg)
Basic Configuration:
2-antenna (TX + RX), i.e. one transmitter antenna (TX) and one receiver antenna (RX); the detection field is between the antennae.
Expanded configuration:
For wider passages, the system can be expanded by alternately adding additional antennas, such as 3-antenna (RX + TX + RX) or 4-antenna (TX + RX + TX + RX), etc.
Power Supply:
Power Supply 230VAC/24VDC 2,7 A (PSU)

Detection distances, passage width:
up to 160 cm for labels between antennas
up to 180 cm for hard tags between antennas
maximum detection distance in ideal undisturbed environment

Accessories (1)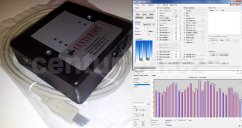 Converter for service of Centurion Stead Flat anti-shoplifting system and / or for reading data from the people counter in Centurion Stead…
Last visited (1)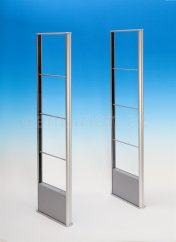 The most common radio-frequency Czech made anti-shoplifting system. Optional People Counter and Metal / Booster bag detection.